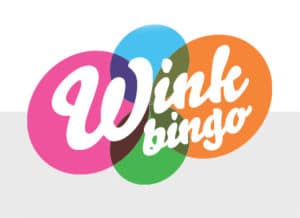 Recognized as one of the leaders in the gaming industry, Wink Bingo offers impressive promotions, giveaways and chat games each day. Launched back in February 2008, the Wink bingo site offers extensive gaming options for the most enthusiastic player.
Its colourful light pink screen scheme, with overtones of blue, tends to be highly appealing to the most players of each gender. It is easy to navigate, and the intuitive interface provides quick play, with easy mobility to the various rooms on the site.
Register to Play
The wink bingo website offers easy registration. The site requires nothing more than a name, address, birth date, and email address. Players are asked to create their own username along with an associated password. Because players do not need to make an initial deposit, financial details are not necessary to open an account. All additional bonuses will require financial information.
A First-Time and Reload Bonuses
Every first-time player is rewarded with Wink's £200 deposit bonus. They are given the opportunity to "Spin The Wheel" to take a chance on winning up to £1000. The spin also provides an opportunity to win a guaranteed minimum prize of free cash worth £15. Every reload deposit receives a 50% bonus match. Every player will automatically receive 10% of their cash back for life (an amount representing 10% of the week's losses is credited to every player's account each Friday).
Promotions
The website offers weekly promotions (Monday through Friday) with Stash the Cash. Players have the opportunity to win upwards of £200 along with a share of the game's 25,000 bonus points. Additional weekend games offer extensive prizes. These games include big promo events, daily promos, weekend promos, and promotions for special occasions.
Wink's impressive customer service, daily and weekly promotions, first-time bonuses and large jackpots, are what makes the site an exciting adventure.
Contact Information
Wink Bingo has several methods to enable you to get in contact with them they also provide some great help videos which are well worth checking out
Available to their players 24/7 you can simply press the CHAT NOW button to gain instant access to one of the friendly Customer Support team
There is also a handy email form to fill in with your details and questions/message then simply press submit. Wink aim to answer your query within 24hrs
By Telephone
0800 783 WINK (9465)
Toll free number (UK only) operated 24/7
(All calls to this number from within the UK are free)
Direct Dial Number
*Please be aware that costs vary from country to country and that calls placed from a mobile cost considerably more