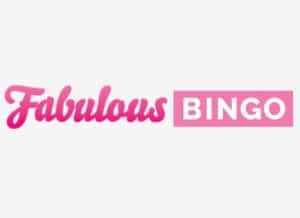 Fabulous Bingo Stats
£50 Welcome Offer
Easy & Quick Sign Up
Win Shopping Vouchers
Daily Mega Jackpot Prizes
£20 Refer A Friend Treat
Simply Fabulous
With a great welcome bonus of 200% when you decide to join Fabulous Bingo up to an amazing £200 all you need to do is make your first deposit and your bonus will then be credited to your own personal account (minimum deposit is £10). There is also a great re-load bonus on offer on you second deposit of 50%.
If you refer a friend to Fabulous you will earn yourself a great £20 to play with once they make their first deposit at the site.
90 ball bingo is made even better at this fab site with bingo tickets being 2 for the price of 1!  Just take yourself off to the New York room between the hours of 9-10am and 5-6pm to take advantage of this offer
Remember to check-out the special promotional offers such as Super Links week where you can play for over £200.000 in guaranteed full house prizes!
Fabulous have a great Hot Shop where you can convert points earned by playing on your favourite games and then redeem those points into cash.  You can earn one Fab point for every £5 you spend playing bingo
*When you nip over to the Community page you will be able to read all about the friendly Chat Hosts to be found at Fabulous Bingo which gives you a little insight into their personalities before nattering to them when in the chat room.
Fabulous Bingo 90 gives players 3 ways to win.
You can win 1 line, 2 lines or the Full House
There is also a chance to win the progressive jackpot which is won by achieving Full House in 40 numbers or less
Cash prizes in New York are variable and depend on how many folk are actually playing
The jackpot will re-start at £500 once it has been won and prizes will be shared when there is more than one winner
Any prize money will be automatically credited to your own personal account
Every 30 minutes on the hour and at half past the hour, Fabulous Bingo 90 New York room joins in with a link game which means that there will be a mega prize up for grabs!  The rooms will remain linked between the hours of 1-9am so even if the rooms are not so busy there will still be some great prizes to be had.
Fabulous provide 2 really good chat rooms in Fabulous Bingo 90 and there you can chat with friends new and old and catch up on all the latest news and goss.  The Chat Hosts are there to keep the games lively and entertaining besides running regular chat games with some great prizes up for grabs.
Other games on Fabulous include slots such as Wonderland and Steps to Stardom amongst others popular titles.  Slots are a great source of entertainment where some real life-changing cash can be won, (just check out the current prize money on the right of the page!)
Fabulous Bingo has a great Winners page to check-out where the stories of lucky winners and what they did with their scoops are highlighted.  It's always good to hear of someone winning a large amount, you never know, it could be you next!
We found Fabulous Bingo an easy site to navigate with pages opening up simply and any information we required was quickly to hand.  You can even link through to the Sun and the great Fabulous Magazine which you can follow on all the social network sites such as Twitter and Facebook!
Banking options are varied and Fabulous Bingo are committed to fair and true play making sure that their players visit and spend time on a site which is safe and secure in order to promote and enhance your game-play.
As you would expect from such an open site Fabulous Bingo offer several methods to their players if they want to get in touch with the site.
You can chat online to the friendly support team there to help by clicking on the live chat button situated on the 'Help and FAQ' page
You can also telephone Fabulous free in the UK on 0800 652 9630
If you prefer you can email Fabulous by clicking on the mail icon and filling in the handy form provided
There is also the useful FAQ page which gives you the answers to lots of questions such as 'how does the welcome bonus work?  In fact it's a good idea to read this page to familiarise yourself with some of the rules of the site in order to feel more at home.
This truly is a lovely site to play at and we spent a good few hours enjoying the entertainment of the bingo and slots provided.  We hope you have a great time at Fabulous Bingo, and we are pleased to be able to recommend Fabulous to you if you have not already enjoyed all they have to offer.