DRIVE IN BINGO AN EPIC SUCCESS
Rating: 0/5
You've heard about bingo halls, NEW online bingo sites, and (maybe) even robot chicken bingo, but drive in bingo – now that's a new one on many of us. Yet, even if it is a largely unknown phenomenon, drive in bingo is proving particularly affluent at the Carp Fair in Ottowa. The latest drive in bingo night saw the arrival of 280 cars on the 15th of July. Stephanie verk. Spokeswoman for the Carp Fair said "It really is amazing." Then added "Before I started working here, I'd never heard of drive-in bingo; it's epic."
Thinking about the logistics of drive-in bingo make it immediately apparent why something like this is a sure fire hit. The rise in popularity of the online bingo world has been largely due to convenience and comfort – not every body wants to leave their homes to venture out and put effort into their attire. It's sometimes nice to just curl up at home and relax with the people you know, and the beauty is, you don't even HAVE to play with other people. You can simply play an isolated game online whilst the rest of the family are gathered around the television.
Equally, what online bingo lacks is community – REAL community, and human contact. Even though it's nice to relax in comfort, it's also just as nice to converse with others and see friends and sadly that simply can't be replicated online, the social aspect of a bingo hall is largely why they have been such a rock steady attraction in towns, villages and cities across the country.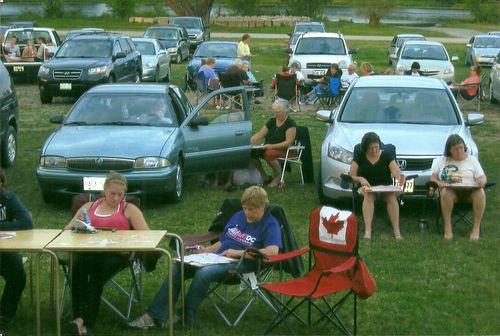 What's really great about drive-in bingo is the fact that it actually manages to successfully integrate the positives of both bingo halls and the principles of online bingo gaming in one smooth running experience that's sure to become a hit in more states as time goes on once they see how much fun people are having with it – it's simply awesome that you can pull up in the comfort of your car, without having to dress up for the occasion, and play a round of bingo in an easy setting that successfully emulates the "living room" type back drop people are used to whilst playing online bingo.
Show runners in Ottowa are hoping that the continued nice weather will ensure people keep turning out in high numbers to keep on playing their favourite game. Verk said, "This is something unique and different. People are sitting on their lawn chairs, you get that community feeling."
Here's hoping there is a bright future for what seems likely to be a new lease of life for Bingo – there can never be enough ways for people to enjoy one of the worlds most beloved games. We're keen to give this one a try!